How Science Works and Future is Created in Labs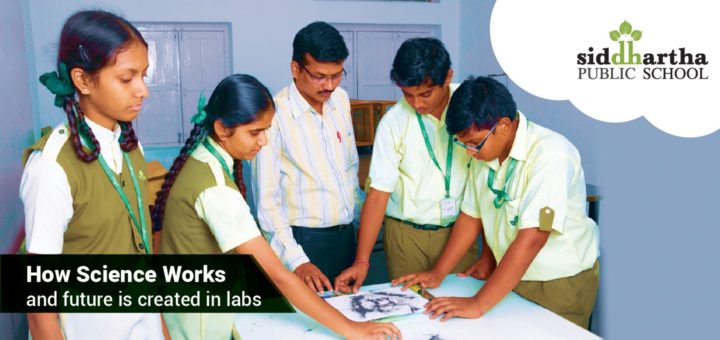 Science labs were created in the 1800s. Since, then the goals and objectives of teaching this subject to students have morphed several times. According to the current relevance of science laboratory in schools, the thrust is to familiarize children with modern day concepts. It prepares them for further study, development of their minds and become global citizens. At Siddhartha Public School science lab, the curriculum is designed to assist and provide the students of higher classes with opportunities of the real world.
Learning Goals in the Science Lab, School's Initiatives and Teachers:
We provide a literary combination of science and technology in the school science lab so that each child has equal prospect to achieve academic standards with theory and experiments. The best teachers have been chosen based on their experience and understanding of the subjects. They have contributed immensely in developing potential of new generation scientists, engineers, medical and lab professionals.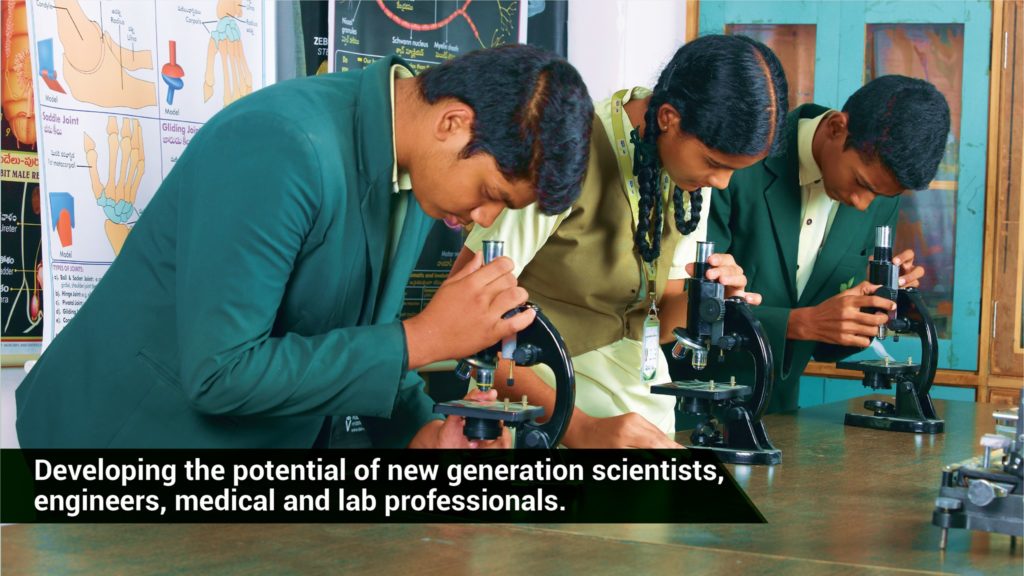 We are proud to have on our roster teachers like:
Sir Ravi Kumar Adepu has 15 years of solid experience. He offers the expertise to each class and is well liked by the students. He teaches Physical Sciences to 9th & 10th standards. His knowledge and style of imparting lessons which connects with the daily life experiences and makes him a clear favorite with generations of past and present students.
Sir Satya Narayana P has 20 years' experience and is well known for primary training skills in Biological Science. He is one of the finest laboratory coaches. He is qualified to explain experiments concepts to his students and has a good record.
Teacher Uma Rani K has 15 years of immense experience in handling students with learning issues. She teaches EVS and Science and assists students to understand various aspects of the subject. Her approach to all lectures allows students to process all information with simple explanations.
Teacher Niveditha Nath has 10 years' experience in taking Science classes. Her pragmatic way of influencing the children has helped them to grasp difficult and attain scientific literacy. She plays an important role in nurturing their interests in Science.
Laboratory Equipment, Discipline and Safety:
Currently, the Siddhartha Public School science lab equipment is divided by the subjects that are taught. There are three elaborate lab units well-equipped for Physics, Chemistry and Biology, as per the standards laid down by the CBSE. Since the approach to teaching science is unique, the labs function with discipline, safety and regulatory requirements. The children have to use safety glasses, goggles, face shields, gloves, lab coats, aprons and earplugs. The labs are fitted with fire extinguishers and first aid kits for emergency situations. The teachers supervise during all sessions.
General rules for all the three labs are:
The students are split into groups and each has a monitor to observe.
All the discipline rules and safety rules are displayed for students.
The work areas are neat and free of any unnecessary objects.
At the end of the session students thoroughly clean the workspace.
Avoidance of blocking the sink drains with debris & use damaged equipment.
Never block access to exits or emergency equipment.
Inspect all equipment for damage (cracks, defects) prior to use.
Never pour chemical waste into sink drains or wastebaskets.
Place chemical waste in appropriately labeled waste containers.
Properly dispose of broken glassware and other sharp objects immediately in designated containers.
Properly dispose of weigh boats, gloves, filter paper, and paper towels in the laboratory.
Students use different bins for waste disposal once the session is over.
Please follow and like us: